Bushido Games is changing (bonus: great people for hire)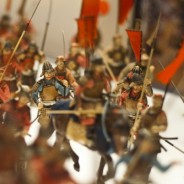 This is not the easiest thing to write about, but the last few months have been hard for Bushido Games.
Our plans did not turned out as we would have liked them to. Some games took too long to produce while others took too long to be released. To put it simply, we made some bets and they did not pay off.
Because of that, we do not have the resources to support the team in the current form. This is why we have to go back to our roots. We have to go on our own again – Wojtek and myself as Bushido Games.
Don't worry, we will still make games. We just need to think really hard on what our next step will be.
Now, one man's loss is another man's gain. There are 4 great specialists on the market for you to grab. We had a great pleasure working with them. Bushido Games would be a completely different company without them. They put their heart and energy into everything they did.
Łukasz Sałałajczyk – Software Engineer, l.salajczyk[at]gmail.com – He started with us from the beginning. It has been 4 years. Obviously he is a great frontend and backend developer, specializing in creating games in HTML5. What is cool about him is that he is always looking at the big picture. He brings new ideas to the table. He can be left alone with the project and he will deliver. Łukasz led the development of Square Solitaire Duel from the idea to the finish line.
During his years in Bushido, he not only thought about how to improve the product but also the company.
Przemysław Szczepaniak – Marketing Specialist, p.szczepaniak_1980[at]o2.pl – The blog you are reading right now is his work. He wrote almost every post. Many of them were also published at Gamasutra. His activity brought new opportunities for partnership leads and raised our brand awareness. He handled our Twitter and Facebook pages. He was also responsible for Square Solitaire community on nk.pl.
Przemyslaw is very effective in finding new business partners and well organized in maintaining the day-to-day communication with them.
Agata Kowalewicz – Game Artist, agata_san_4[at]hotmail.com – She has brought quality graphics to our games. It is incredible at how many different styles she can create in her work. Agata has amazed us with the cartoon and light style of Animory, the African and minimalistic theme of Treasures of Sahara, and the heavy and rich casino style of Square Solitaire Duel.
Also (and in my opinion what is most important), she has a great work ethic. I have worked with many artists/graphic designers and only a few were on her level. She is patient when discussing her work; she always brings new ideas; she thinks about how to improve the product (beyond the artwork); and has a passion for games
Dawid Winiarczyk – Software Engineer, dawid.winiarczyk[at]gmail.com – He is fast! If there is a list of bugs and features on the scrum board, you can be sure they will be finished in no time. He is independent and is always looking for interesting techniques or technologies. What we really like about him is that he doesn't like to reinvent the wheel. Be prepared because he will introduce new stuff like he did in Bushido Games with Coffeescript and Phaser.
What can I say at the end? I can only wish them good luck. Now somebody else will have the pleasure of working with them.
Now the situation in Bushido Games is changing, but in spite of that we cannot wait to see what the future holds. We already have a couple games planned for release. We will continue to support our previous games. We have one of the most exciting parts of game development in front of us – planning our new project.
Keep your fingers crossed!