Where and how can we play HTML5 games?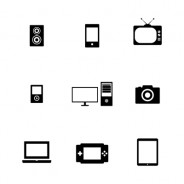 The possibilities of accessing HTML5 games are almost endless. We have learned a lot about this through experiments, exploration of technology and the market. If you already have a basic knowledge of HTML5 gaming features, you may also know that those games are playable EVERYWHERE. It's true, any device with a browser and internet access can become your ultimate gaming machine. Now you might be having many thoughts and ideas on your mind after these previous sentences, and you are right: "The sky is the limit." Our imagination bring us towards many interesting conclusions because there are no practical limits for web gaming with cross-platform features. We can move freely from desktop to mobile platforms when we play. Let's try to focus on the ways which are currently possible and working.
Some facts and numbers.
I'd like to quote a few facts collected by Spil Games in their state of the industry report for 2013. This report contains a couple pieces of interesting bits of information. Currently, the biggest focus is put into mobile, which is one of most preferred platforms for the future of HTML5 gaming. The mobile sector is growing very fast. The need for mobile devices since 2012 till now has reached almost the same level as for the PC's, according to Spil Games' report, and it will eventually change in favor to mobile. That means that having fun on mobile is just as important for users now as it is for users who spend their time on desktop devices.
"With iPads and other mobile devices (particularly Android-based systems) becoming cheaper and more widespread, and their users seeking out more opportunities to play games, in-browser and app-based gaming is exploding (…) Looking further ahead, it's inevitable that more devices will be developed to support this growing area, and browser or app-based games will draw in the mass market as they offer the easiest entry point into gaming (…)
In 2014, tablet shipments are expected to increase 42.9%, with shipments reaching 263 million units. On top of this, mobile phone shipments are projected to grow around 5% to more than 1.9 billion units. Set this off against a projected 11.2% fall in traditional PC (desk-based and notebook) shipments, and it's clear mobile is the way forward."
Since HTML5 gaming is seen as the future entertainment solution for mobile entertainment, we can easily find that Spil Games' report is a very good base to show us realistic data. The graph below brings a straight answer to the question of what place is our favorite to play mobile games. I must admit that the toilet was, for me, a really hilarious discovery, and I honestly didn't expect that to be featured in the report.

On the other hand, it is not a surprise. This data shows that we can really play mobile (HTML5) games anywhere, just like I claimed in the introduction.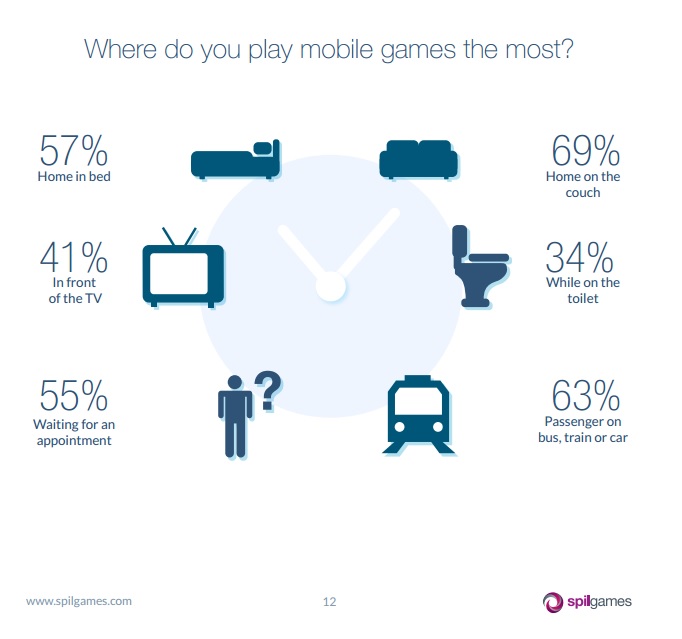 Now, let's leave the facts and numbers…
…and let's dig a little deeper. We know from the introduction that regardless of platform, we can play HTML5 games using only a screen, a browser and internet access. A mobile device doesn't limit you by the choice of where you play. Only the internet access is needed. Nowadays, it is not a problem because most airports, shopping center, cafés, clubs and even planes, buses and trains have internet access.
If we are on the move and there is no WiFi around, mobile phones can provide us with a fast 3G/4G connection which won't slow down our entertainment because of the low bandwidth.
So what devices besides PC's, tablets and smartphones can do that?
Practically any imaginable. The greatest feature of HTML5 gaming is the cross-platform feature. It allows you to play with friends who are using devices different from your own! You are able to play a simultaneous multiplayer game using your smartphone while your friends can play against you from a tablet or PC.
You can access mobile HTML5 games through HTML5 mobile networks such as Spil Games or Boostermedia. Those and other web mobile networks allow you to have instant HTML5 fun without downloads and redirects. This way you can play anywhere you like, no matter what device and system you use. Most mobile HTML5 games are optimized for iOS, Android, BlackBerry or Windows Phone systems.
A new era of devices brought many changes in the entertainment sector. By saying that any imaginable device can do that. I won't forget to mention the Smart TV's. Internet browser access not only allows you to search for news on the web or watch shows, but special services, such as It's My Spielecenter, gives you access to many games, including HTML5 ones too. Those services also bring multiplayer games, so it could be possible to play from your TV with other devices. Sounds like fun, right :)?
One of the other ideas for HTML5 game platforms are consoles based on popular operating systems. One of them is OUYA which is based on Android. Since the beginning, it wasn't welcomed warmly. The idea behind it was pretty cool and it became a successful Kickstarter project, but the current numbers don't show an optimistic future for it. Why? Well, it is based on Android, so basically you could play all the games on your mobile device or tablet, so you wouldn't need a console at all. The controller also isn't always a must-have for gaming. On the other hand, it's aim was to "…bridge the gap between Android and iOS mobile devices and traditional consoles like the Xbox 360 and the PlayStation 3." It's pretty cheap in it's price, but the market will decide if the need for such device is a mandatory.
Since we are focused on consoles, I have found pretty cool news regarding the next-gen consoles: Xbox One and Playstation 4. The next-gen consoles have a browser, and with internet access, they also may become platforms for HTML5 games! The idea stands behind two services: Xboxie and Sonyfied (Playboxie now).
"Xboxie and Sonyfied are two inspired ideas that allow next-gen Xbox One and PS4 owners to play online games through their console's browser. This means plenty of free HTML5 games are already available."
No limits?
It seems that there are no limits to make HTML5 games accessible anywhere on any possible device with a browser and internet access. If the trend of web mobile gaming grows rapidly, then in the next few years we may be surrounded by HTML5 cross platform fun anywhere we move. Can it be overwhelming? We can't really tell. Web gaming is still very young. After a few years on the market and a couple ups and downs, 2014 seems the year where many issues can be solved. The technology and devices are moving forward, and thanks to that, web gaming is moving forward too. Over 3 years ago, some people thought that it would be impossible to launch an HTML5 game on a smartphone. Today, you can play them from many mobile devices simultaneously and the performance and quality has improved greatly. What will the future bring? Let's not try to predict… Instead, let's have fun and watch how how vast and amazing HTML5 gaming can become.
This blog entry was co-written by Bushido Games and Goo Technologies
Illustration in courtesy of Spil Games.
Image cover courtesy of [zirconicusso] / FreeDigitalPhotos.net